Add Product(s)...
You can purchase merchandise directly from us over the Internet using a credit card, check or money order. Please enter the desired quantity of any given item in the appropriate QUANTITY box for each item below, then click the ADD TO ORDER button when finished. You will then be sent to our secured credit card server (hosted by Mal's e-commerce), where you will be asked to enter the proper payment and shipping information. All pricing is provided in United States dollars (US $).

Payment By Check or Money Order: If paying by check or money order, you must pay in US funds. Payments by check or money order must first clear our bank account before shipping can occur. Please use the shopping cart to process your order; this will notify us of your intent to purchase our products. After you finish processing your order through our secured server, make out your check or money order to Kirit N. Shah 980, Moraga Avenue, Piedmont, CA – 94611-3444 Phone: (510) 808-5176 Fax: (510) 653-8508.
Merchants and booksellers: To order quantities greater than 10 of any one item, email us at sakshar@gmail.com for special rates.
NOTE: Returns involving our defective products must be sent within 30 days of receipt via insured mail for refund or replacement. Shipping Charges will not be refundable.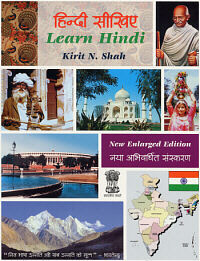 Buy This Item!
Learn Hindi
Hardcover Book: $34.95
Softcover Book: $24.95
CD-ROM: $89.95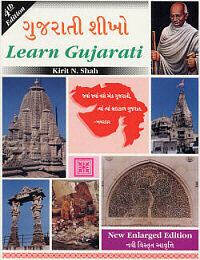 Buy This Item!
Learn Gujarati
Softcover Book: $24.95
CD-ROM: $89.95
Learn Hindi & Learn Gujarati
Learn Hindi & Learn Gujarati are the books specially designed to teach anyone – persons aged seven years to adults – how to speak and write effectively in the Hindi language. Designed especially for individuals who currently speak and read English, the book is a self-learning tool, and is the most complete product ever published in English to teach the Hindi or Gujarati language.
Learn Hindi & Learn Gujarati teaches the language's fundamentals, vocabulary, grammar, conversational sentences, prose and poetry, idioms and proverbs. It also contains an English-Hindi/Gujarati index of words can serve as a useful dictionary.
Printed and published in the United States, Learn Hindi & Learn Gujarati are written in an innovative organized manner, and is designed to help beginners learn the language in a simple, step-by-step method. The exercises at the end of chapters help you check the progress and make learning more interesting. The book may be used by an individual or as part of a group instruction. However, the book emphasizes the proven concept of learning a language with minimal assistance from others. Ample written examples and exercises are provided to compensate for the lack of constant usage in the daily environment, and the user will be able to communicate effectively in the new language.
LEARN HINDI & LEARN GUJARATI CD-ROM (WINDOWS/PC VERSION ONLY)
Now you can learn how to read, write, speak, translate, know and understand the Hindi/Gujarati Language – including basics to the advanced grammar – with our new CD-ROM.
The Multimedia CD-ROMs are based on the book Learn Hindi & Learn Gujarati. It contains 7 major sections, including: Fundamentals, Vocabulary, Grammar, Conversation, Idioms and Proverbs, Prose and Poems and Games. The CDROM is a complete language learning system for novices as well as those who are already fluent in the Hindi/Gujarati Language.
SYSTEM REQUIREMENTS
IBM compatible PC w/ Intel Pentium Processor or higher;
All Windows Oprating System with all updates;
16mb RAM (32mb recommended);
8x or higher CD-ROM drive;
16-bit video display;
SoundBlaster 16 or compatible