Description
It is our pleasure to introduce you to the new enlarged edition of Learn Gujarati. It has become a realy useful learning tool thanks to the continual efforts of the author and dedication of all related to the project, to share the greatness of the Indian heritage.
This book will be useful in learning without any assistance from others the rudiments of the Gujarati language including some essential vocabulary and the fundamentals of grammar. Ample reading writing and translation exercises occur throughout to help those who have few daily opportunities to use Gujarati. For best results it is necessary to study the chapters in their given sequence.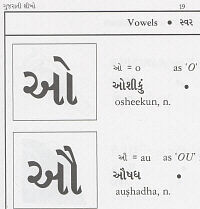 The most significant pedagogical difference setting this book apart from conventional texts is the prounciation of English words according to Gujarati script and Gujarati words in English script. This powerful learning method enables any reader English or Gujarati to see his or her own native language expressed with the script of the language being learned. By using your extensive knowledge of the phonetics of your native language you will learn to recognize and associate the foreign writings with familiar sounds (phonics) It is no exaggeration to say that there is no other such book available today. We are grateful to all the students, teachers, Gujarati authors and poets who over the years provided ongoing reviews and letters testifying to the unique need this book fulfills.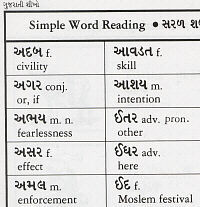 The New Enlarged Edition has many changes which the author hopes that the readers find worthy improvements over the previous editions. The first is an addition of an index of English words. Although this new index does not eliminate the need for a good English-Gujarati/Gujarati-English dictionary one should find it helpful in locating Gujarati words throughout the text.
This edition includes several new chapters to expand the depth of your knowledge of Gujarati. The added chapters are Conversation in Gujarati and Selected Poems. The chapter on Selected Poems provides a valuable coeducation of selected popular Gujarati poems and songs. School children routinely memorize these poems and recite them in oral examinations as part of the Gujarati curriculum. Many students have memorized numerous poems and found that using them in conversations greatly enriched their lives and bestowed greater confidence in their ability to communicate in Gujarati.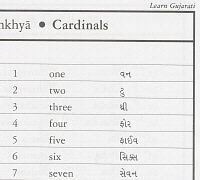 The added chapter on Conversation in Gujarati serves multiple purposes For those of you who cannot devote the time necessary to learn the language in its entirety focus on the ready-to-use everyday sentences. These practical sections enable you to speak with the correct pronunciation even without knowledge of the script.
For the more studious this provides additional reading and pronunciation exercises. A broad selection of phrases help you understand sentence formation in both languages. A direct translation accompanies each sentence so you can better contrast grammatical distinctions in sentence composition and structure. This self-contained chapter encourages you to use your imagination and modify these sentences to accommodate your needs.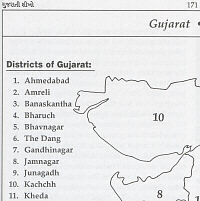 These additions along with the addition of key to the exercises and many other changes came from many valuable suggestions of readers to whom I am extremely grateful. They contributed tremendously in making this text accurate more useful and informative. In light of my enduring high expectations for this text I encourage conscientious readers to continue providing me with suggestions that will improve this work.
PLUS a bonus section on About Gujarat. Where you will find details pertaining to Gujarat including the districts and geography, culture of Gujarat, Wild life, administration and much more. This section helps you to learn much more about Gujarat and the People.
Also included is a special section on Great Personalities of Gujarat from the years. These great men have blessed the World with something or the other. The book contains information dating back to 3000 B C in the times of Lord Krishna to Mahatma Gandhiji, The Father of the Nation – INDIA.