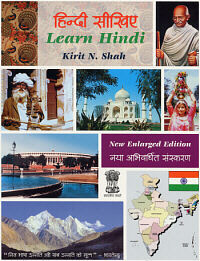 Learn Hindi is a book specially designed for anyone seven years or older who knows English, how to learn, speak and write effectively in the Hindi language. The book and CD Rom are self- learning tools, and a most complete product ever published in English, specifically to learn or teach the Hindi language.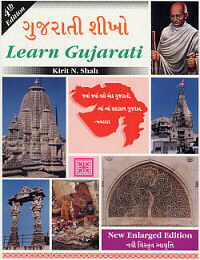 Learn Gujarati is designed to learn for anyone 7 years or older who knows English, how to learn, speak and write effectively in the Gujarati language. This book introduces the language's fundamentals, vocabulary, grammar, conversational sentences, prose and poetry, idioms, proverbs and more. This book also contains descriptions of places of interest in Gujarat and biography of famous Gujaratis in English.
Learn Hindi and Learn Gujarati publications are similar in contents and presentation making it very simple to learn both languages at the same time.
Try It Before You Buy It!
Download a FREE demo version of our Learn Hindi and / or Learn Gujarati multimedia CD-ROMs, and try them out at home before you purchase it. [ Product Demos ]
RAVING REVIEWS FROM OUR CUSTOMERS

"Thanks very much. I have received the book and the software. I'm very happy with the software – I've tried many CD's and cassettes, and by far this is superior to all that I've tried…"
"… Going through the book, both my wife and myself were lost in our childhood. The book has brought back many of our child hood memories. We have two children….Both of them are excited to see this book…"
With a product like this, the USA will soon be speaking Gujarati, Thanks…Once again thank you for calling me and providing me the prompt technical support. My children are enjoying this CD in addition to the book.
"What an easy way to learn a foreign language I have not come across a single product that offers so much for so little…Besides it is the only complete language learning system presently available…"

"…I found what I was exactly looking for. Please send me five sets of each CD-ROM with book, which I would like to give as gift to my friends and relatives…This is a must for any one who wants to thoroughly learn Hindi or Gujarati languages…"
"One who has not seen the contents of these CD-ROMs will not be able to imagine what they have to offer. Rush my order, I want my own copy as soon as possible…"
"…Both your CD-ROMs and books on the Gujarati and Hindi Languages are excellent. They make learning easy and self explanatory. I am delighted that my children are improving their language skills rapidly and are having fun doing it…"
"…The CD-ROM and book are excellent, One-of-a-kind. It is also user friendly and compatible with my computer. I would highly recommend these products to any one wanting to learn Hindi or Gujarati languages…"
"Thanks very much. I have received the book and the software. I'm very happy with the software – I've tried many CD's and cassettes, and by far this is superior to all that I've tried…"